Where We Serve
CenTrio is proud to provide sustainable energy solutions throughout the United States, serving as owner/operator for many of the districts, and leading a public-private partnership for the remaining districts. We provide heating, cooling and power for higher education, healthcare, building developers and owners, commercial and industrial entities, residential and multifamily properties and hospitality, entertainment and retail complexes.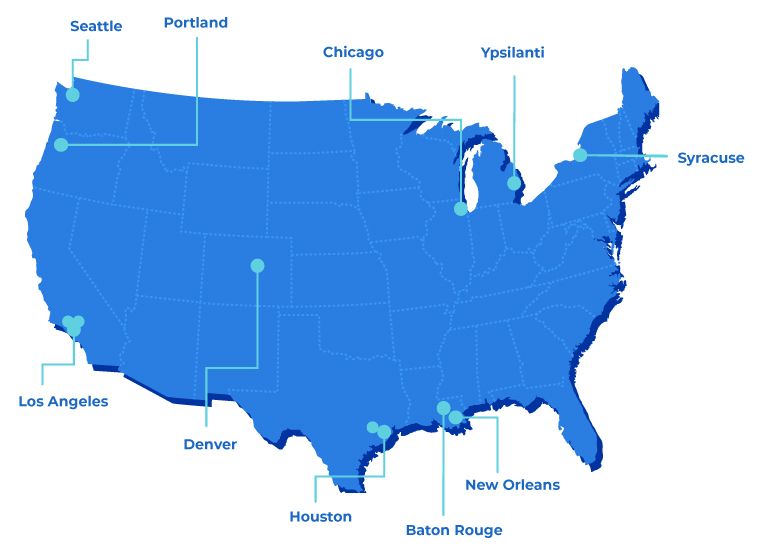 CenTrio owns and operates intelligent thermal energy systems that generate, store, and share energy across the United States with key assets in Chicago, Denver, New Orleans, Baton Rouge, Houston, Syracuse, Los Angeles, Seattle, Portland, and Ypsilanti.
---
Baton Rouge
CenTrio has partnered with Louisiana State University (LSU) in Baton Rouge, LA to modernize, operate, and maintain the on-campus district energy system under a long-term 30-year concession.
---
Chicago
Located in downtown Chicago, CenTrio's district operations support more than 53 million-square feet of building space. CenTrio provides cooling solutions, helping businesses and residents maintain a comfortable and reliable environment for their employees and guests. Utilizing the largest ice battery system in North America, the growing Chicago district serves commercial office space, residential properties, hotels, retail properties, government buildings, entertainment facilities, schools and data centers.
---
Denver
At the National Western Center in Denver, CenTrio and partner National Western Center Authority are leading the way for district energy systems across the country to tap wastewater as an energy input to replace fossil fuels and chart a path to a sustainable future.
---
Houston
Located in downtown Houston, CenTrio's district energy operations support more than 19 million square feet of building space, including Minute Maid Park, home of the Houston Astros. CenTrio provides cooling and heating solutions to customers through 6.5 miles of underground supply and return water piping in the downtown area.
---
Los Angeles
With facilities in Bunker Hill, Century City, Hollywood and Highland, and the Queen Mary, CenTrio's district energy operations in Los Angeles support 13 million-square feet of building space. CenTrio provides cooling and heating solutions to customers in the second-largest metropolitan region in the U.S. through its 7.8-mile distribution network.
---
New Orleans
CenTrio is the owner/operator of its New Orleans system, providing both chilled water and steam currently serving 24 buildings downtown, primarily higher education and healthcare institutions including LSU - Health Sciences Center, University Medical Center and Louisiana Cancer Research Center.
---
Portland
As urban areas grow, tenants and residents demand more flexibility and space from their offices and residencies. Portland is no exception; as redevelopment continues downtown, customers can rely on CenTrio for reliable, resilient and sustainable heating solutions.
---
Seattle
CenTrio's Seattle district encompasses an expansive 28.5 million square feet, including 165 buildings throughout downtown with potential to grow from the waterfront to SoDo. Experienced teams of engineers and business development professionals support managers of commercial office buildings, healthcare institutions, retail facilities, hotels and residential facilities with solutions that help reduce operating costs, transfer risk, reduce environmental impact and increase the amount of livable space.
---
Syracuse
CenTrio has partnered with Syracuse University in New York State to modernize, operate and maintain the campus-wide district energy system providing heating, cooling, and electricity under a 40-year concession agreement. CenTrio is an industry partner in the University's Center of Excellence in Environmental & Energy Systems (SyracuseCoE) which catalyzes research, development and demonstrations to accelerate innovations for clean energy, healthy buildings, and resilient communities. 
---
Ypsilanti
CenTrio establishes 50-year innovative utilities partnership to support sustainability efforts, establish new revenue stream for academic, retention, and enrollment efforts at Eastern Michigan University.